When looking to buy a home, many deliberate whether they should purchase an existing home or buy a section and build from scratch. While there are pros and cons for both options, building your home from the ground up is certainly an exciting option, providing great benefits for you and your family now and well into the future.
As a multiple award-winning registered Master Builder Christchurch, Hallmark Homes have been building houses in the Canterbury region for well over 35 years and have seen the satisfaction and delight our clients have enjoyed as they see their ideas and vision come to life in the form of their dream home.
Let's take a look at some of the key benefits of building a new home.
Exclusivity
The keyword that comes to mind is CHOICE! Customising your home is one of the key benefits to making a house 'your' home. When you build with Hallmark Homes you get to make informed decisions about every aspect of your home including the floorplan, kitchen and bathroom fit-outs, colour selection and more. Our sales consultants can also provide styling and design ideas to help you create a home that's exactly what you want.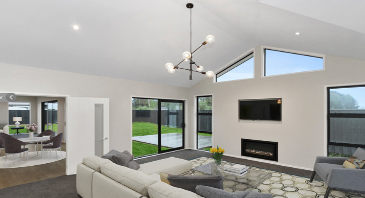 Customise Your Design
You have total flexibility to design or select a floorplan that's tailored to your lifestyle. Hallmark Homes has a wide range of designs with modern features and finishes to suit your requirements and budget. We can customise any plan to meet your needs, or design and build your new home specific to your plan and ideas.
Incentives
Building a new home provides greater financial opportunity to increase capital gains. When purchasing an existing home, you are paying market value, however with building you are paying construction value which is typically lower due to the price of building always increasing in cost.
Also, if you decide to sell down the track it's easier to recoup your investment and make a significant profit with the sale of a newer contemporary home, which tends to be more appealing than an older home to most people.
Reputable home builders offer attractive incentives and upgrades to enhance the style and liveability of your new home. Check out our latest inhouse incentive – 'Build with Hallmark Homes and qualify for a Ducted Heatpump System Upgrade' (terms & conditions apply).
Energy Efficiency
Today's new homes are constructed utilising energy efficient building materials and standards, including the latest smart home technology. Hallmark Homes takes great care to incorporate the unique characteristics of your section with the right design and correct orientation of your home to ensure you end up with an ambient, cosy liveable home.
Maintenance & Warranty
Everything is nice and new, so basically there is no maintenance work to do for some years to come. In contrast ongoing costs associated with buying an older home could prove expensive such as a leaking roof, plumbing or electrical problems to name a few.
When you build with Hallmark Homes our commitment to you is ongoing. After you've settled into your new home we continue to keep in contact to ensure any issues that might arise are addressed promptly. We also provide a comprehensive 10-year Master Builders Warranty and a 2-year defects period.
If your family is looking for a beautiful new home, then building is the best option for you.
CALL US NOW for a FREE Consultation 0508 442556 or come and visit us at our new Show Home 'The Lincoln' located at
162 SOUTHFIELD DRIVE, TE WHARIKI, LINCOLN
from Mon – Sun 12-4pm (or by appointment for private viewings). We'll help build your forever home the way you want it to be!