STREET APPEAL – IT'S A WISE INVESTMENT
You've found the perfect block of land and an ideal house design, but there's still an important decision to be made. One that has a huge impact on the street appeal and resale value of your new home – choosing the right façade.
The outside finish is literally the icing on the cake! A stylish design and quality exterior finish creates a standout presence and reflects your style and personality. Hallmark Homes has a selection of contemporary house plans and facades featuring architectural innovation and quality materials used to achieve a contemporary and attractive exterior with lasting appeal.
To design the best façade to suit your home careful consideration of the following factors is required.
Architectural Style
The façade should be in keeping with your house design and surrounding area. A proportionate facade featuring quality materials and a stylishly selected colour scheme will always retain great street appeal and maximise resale.
Local Covenants – In some suburbs and subdivisions, a design covenant may apply to new homes; including roofing and exterior finishes, driveway surfaces, landscaping and fencing etc. Hallmark's team of sales consultants have a thorough knowledge of the Canterbury region and can advise on possible covenant restrictions that may apply in your area.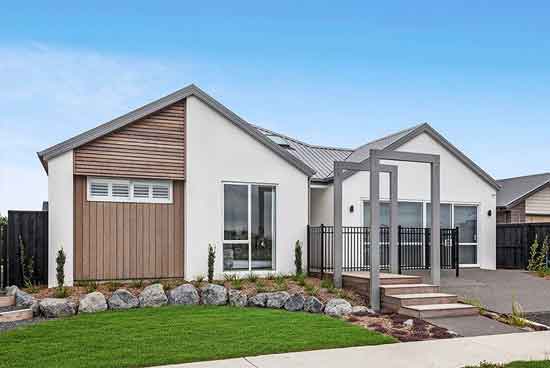 Balanced Approach
A well-designed façade adds proportion to your home's exterior appearance and perceived value.
Whilst it can be tempting to take a cost-effective approach and choose a cheaper façade, your investment should be relative to the cost of your overall house build and in keeping with the quality of homes in the area.
Material Selection
Flat surfaces of painted render with contrasting feature colours have been a popular option, however there are many exciting and innovative trends being embraced in stylish new home designs today.
Lightweight cladding (fibre cement exterior panelling) with its contemporary, architectural lines and different surfaces is right on trend, requiring minimal maintenance due to its durability and rot resistance.
Timber panelling can be applied to walls and ceilings. It's popular with those wanting a natural and sustainable finish and gives a warm feel to the home. However, maintenance is a factor as timber is likely to require regular protective staining or oiling to retain its beauty. Alternatively, for those who are time poor, there are synthetic timber-look products that imitate the grain patterning of natural timber and are very durable.
Stone and tile cladding, and feature brickwork are also popular materials to include in your facade to add extra interest and character. It is also important that the materials you use for your facade blends well with surrounding areas of your property (e.g. landscaping, outdoor features, fencing and driveway etc.), as opposed to having conflicting spaces.
You want to picture the whole street seen together, and make sure the different materials don't clash. You can even choose the same product such as a cement board, and have the grooves running in different directions to give contrast.
If your desire is to build a quality standout new home that you are proud of, contact Hallmark Homes, multiple award-winning Registered Master Builders Christchurch – ph. 0508 442556, or come and visit our new Show Home 'The Lochy' from 12pm to 4pm Thu to Sun, located at 9 Lemonwood Drive, Faringdon, Rolleston.
Christmas has arrived early!
Click here to find out more about our **FREE HEATPUMP UPGRADE OFFER**
when you build with Hallmark Homes. TC's apply.