What are the characteristics of great bathroom design?
When it comes to home saleability, as with kitchens, bathrooms are referred to as investment spaces and when designed and built correctly, these rooms stand out and are more likely to create an emotional response to potential buyers.
Our designers at Hallmark Homes take great care to create bathrooms that are both functional and stylish. We firstly look at the practical characteristics such as size, location and access, plus plumbing, electricals and ventilation. We then work on the inclusions to ensure that the bathroom reflects the quality and style of the entire home and is in line with our client's build budget.
Let's take a look at some of the bathroom trends unfolding this year.
'Escapism' is high on the list
People are bringing the day spa feel into their homes, creating a peaceful oasis to relax and retreat from the busyness of life, using natural lighting such as skylights and floor to ceiling windows to blend with the outdoors.
Colour Palettes
Earthy & neutral tones
Soft greys
Blue tones mixed with white
Cabinetry
Timber and veneers, mid to dark colours
Sleek minimal lines (e.g. shelving & accessories)
Concealed storage, either inset into walls or behind mirrors
Drawers instead of cupboards providing easier access
Benchtops
Quartz
Slim Profile for a streamline look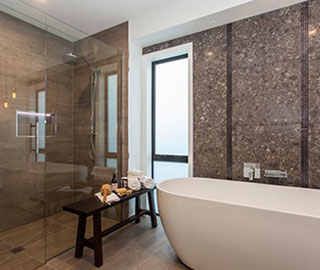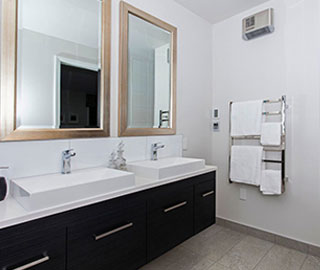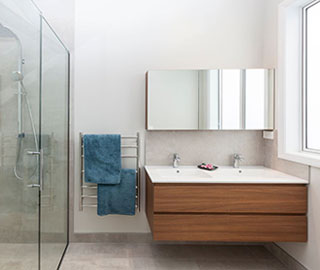 Tapware & Vanities
Matt finish – black or graphite. For a softer look – gold, champagne or bronze
A pair of striking vanity basins create a focal point with an element of luxury
Heating
The luxury of bathroom heating adds comfort during the colder months. Heat lamps, under-floor radiant heating and heated towel rails are all welcome extras
Baths
Provide a natural focal point, which sets the tone for the bathroom
Stand-alone baths exude luxury and compliment the day spa retreat theme
Coloured baths are also on trend this year (e.g. black or navy)
Showers
Multiple shower heads and wall jets. The spa shower is a perfect element for a resort spa affect. (A hand-held showerhead is also a functional and practical addition)
Tiles
Large format tiles free of grout lines provide a minimalistic finish, (however make sure it works for the space!)
Marble & neutral stone tiles
Mosaic tiles remain on trend for floors, walls or as a standout feature, (i.e. simple shapes, bold colour designs or marble geometric patterns for a traditional look)
Monochrome – black and white for clean classic cool lines
Adjustable dimmable lighting helps create a relaxed ambience
Wall-mounted lights positioned either side of the mirror at eye level, with an additional light above the mirror, lightens your face and eliminates shadows
If you are looking for new home ideas and inspiration, come along and view our showhome at Faringdon. 'The Lochy' is a fine example of our quality workmanship and design innovation. In particular, check out the beautifully appointed bathroom and ensuite, plus other design features and inclusions throughout the home. Opening times are Thu to Sun, 12 to 4pm or by appointment, located at 9 Lemonwood Drive, Faringdon, Rolleston.
Click here to view our house designs and gallery. For more information please contact our friendly sales team at Hallmark Homes, ph. 0508 442 556. We are committed to building master-built homes that our clients love to come home to!