Tips for moving into your new Hallmark Home NZ
The thought of moving can be rather daunting at the best of times, however with proper planning and preparation you can certainly make the process a lot easier.
Our team at Hallmark Homes, Master Builders Canterbury have worked alongside numerous families during their new home build journey and can assure you that we are pretty experienced at moving too! When you build with us, we keep you informed every step of the way so that you have a clear and precise timeline from start to completion. We keep our online system Co-Construct up-to-date so that you know where things are at. Here's a simple guide to help you prepare strategically for your upcoming move.
Packing – start as early as possible and make sure you have more than enough boxes, tape, scissors and markers. Label each box by room location, with a brief content description and mark 'fragile' if it contains breakables. Items that you don't use every day can be packed in advance and remember to de-clutter as you pack. Afterall why waste time and money moving stuff that's broken or never used.
Book a removalist – once you know exactly what you're taking, get at least three quotes before choosing a removalist. Or, if you are doing a DIY move, make sure you hire the right size vehicle and have your helpers organised well in advance.
One Month Before You Move In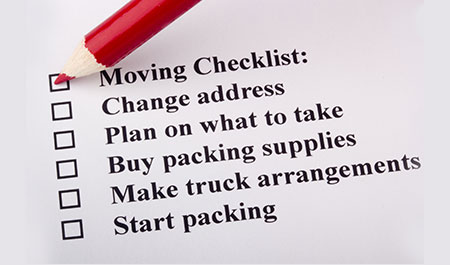 Arrange disconnection and reconnection of water, electricity and gas prior to moving into your new home.
Organise internet and phone connection; bearing in mind providers are often booked weeks in advance and living in a new house without the internet can be extremely inconvenient and frustrating.
Advise your bank, solicitor, doctor, insurance company, plus friends and relatives of your pending move, including your new address and contact details.
Contact the Post Office and set-up a mail redirect service
House & Contents Insurance – contact your insurance provider and make sure you are covered throughout the move. Your current home insurance policy should be set to finish the day after you've moved out and your next insurance policy should start the day before you move. That way you are completely covered on the day of the move.
Children & pets – ideally arrange for children and pets to be looked after during the day of the move, so you can focus on the task.
Before Hand-Over of your new Hallmark Home
We'll invite you to a comprehensive walk through to –
Address any items that require attention
Arrange Code of compliance from the local authority
Prepare a comprehensive warranty and guarantee folder for all aspects of your home
Arrange a Personal meeting with you to hand over the keys and present your new home to you
You will need to:
Arrange insurance of your new home (as mentioned above)
Arrange for final payment before hand-over
The Day of Hand-Over – Congratulations, here's the keys to your new home!
The Day Before Moving In
Defrost and dry out your fridge/freezer.
Pack an 'Unpacking' Box – containing tools you might need to set-up furniture, labelled snap lock bags with screws from dismantled furniture, scissors, screwdrivers, cloths for wiping surfaces, tape and anything else you may need on the day.
Pack a 'First Night' Box – This is equally as important as the un-packing box; containing a change of clothes for each family member, toiletries, pyjamas, towels, bed linen and any other basics you may need such as the kettle, coffee, tea, snacks, pet food and a few of the kids' favourite toys.
MOVING IN DAY!
When the removalist team arrive, provide a floor plan of where furniture and boxes Coloured or labelled are to go in your new home.
Do a final check of your current property, inside and out, so that nothing is left behind.
Final clean – many of us simply underestimate how long it takes to move and now you're moved into your gorgeous brand-new Hallmark Home, the last thing you'll feel like is going back to your old place to clean! Where possible avoid the stress and book the services of a cleaner to do it for you.
If you are planning to build a new home, contact home design specialists Hallmark Homes to discuss how we can turn your vision into a reality. Click here to view our Gallery. Not only will we build you a quality award winning home, it will be uniquely built for you – a new home that you'll always love to live in. Call us today for more details, phone 0508 442 556.
Related Tags:
KiwiSaver Homestart
KiwiSaver Homes
Home Design Plans