Design Tips for Creating the Perfect Master Bedroom

Bedroom 1, Master Bedroom, Master Suite, Main Bedroom – whatever you'd like to call it. When designing your master bedroom, you want to make certain you create a comfortable private sanctuary where you can escape at the end of a hectic day, unwind and get a good night's sleep.
Our design team at Hallmark Homes are right up to date with the latest construction and design trends for new homes today. In this article we'll share some handy design considerations and tips to help you create a luxurious master bedroom that's both personal and functional.
Location – Think now and into the future. Positioning your master bedroom close to your children's bedrooms may be the right choice when they are younger but remember they do get older and privacy becomes a higher priority.
Functionality
No matter how many bathrooms you have in your home, a well-appointed ensuite with quality tapware, dual vanity, showers and/or a standalone bath is a luxe feature in contemporary homes today.
Deluxe wardrobes are also vital components in luxury bedroom design. As seen on popular home improvement shows such as The Block – walk-in robes featuring lots of hanging and storage space including stylish cabinetry and finishings contribute greatly to the WOW factor in master bedroom design.
Lighting greatly influences the mood and style of a room. We recommend a layered approach, i.e. mixing the 3 basic types of lighting – ambient, task and accent to create a well-lit balanced room. Soft, warm lighting encourages relaxation and also mimics the sun during the darker winter months, whereas task lighting is suited to overhead lighting as well as bedside tables (i.e. so one partner can read, while the other sleeps.)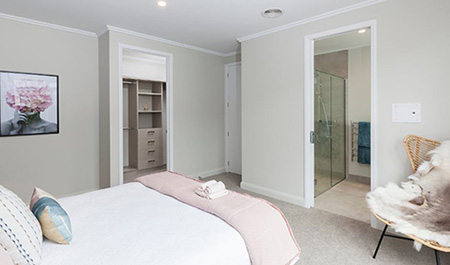 Colours – ideally choose colours that are soothing and make you feel comfortable. Two popular choices that exude warmth and a sense of peace are whites/greys and pale blues, or whites/creams and taupes. You could either paint your walls the same colour throughout or include a feature wall to create a WOW factor using the likes of a different paint colour, wallpaper, timber, brick or stone.
Window Coverings – Consider what style of curtains, blinds or shutters would best suit the decor of your room. Bearing in mind that privacy and darkness for sleeping are also key factors. If your bedroom is east, north or west facing, you'll get plenty of sunlight, so block-out blinds or curtains would be a major consideration for summer.
Bed – From a visual perspective your bed is the focal point of the master bedroom, so choose textures, tones and colours that compliment your design theme. If you wish to create a luxurious ambience, then an impressive bed is the way to go, but if you prefer a more minimalistic look, then a sleek contemporary bedframe will be the best option.
Artwork – not only does it fill up plain walls, it helps to tie in colours and themes. Select something that fits the space, reflects your bedroom's style and above all, choose something that you like!
Furniture – many homeowners prefer matching furniture, however for a personalised and eclectic look try adding some mismatched pieces to your room. When mixing furniture, use pieces that feature a common element such as a wood finish or accents. Also, the size of your furniture should match the available space in the room, i.e. small furniture in a big bedroom tends to look rather insipid, whereas large furniture in a small bedroom can overpower the room.
For more great styling ideas and inspiration for your new home, come along and visit our showhome: LINCOLN. Opening times are Monday to Sunday, 12 to 4pm or by appointment, located at 162 Southfield Drive, Te Whariki, Lincoln.
Our team at Hallmark Homes – Award Winning Master Builders Christchurch – are dedicated to building quality new homes tailored to our clients' specific needs and vision. Call Us today, 0508 442 556.
➕ For a Limited Time Only: For an investment of $5000 you will receive up to $16,000 worth of Homestar recommended upgrades towards a Homestar Rated Home.
T&Cs apply, find out more: https://www.hallmarkhomes.co.nz/homestar/
Don't let the year pass by without beginning your home build dream! CALL US for a FREE Consultation on: 0508 442556 today!